CHEMICAL OVERSTOCK SALE
The Reliable Professionals in Hoarding, and Biohazard Remediation Services in Calgary, Edmonton, Red Deer, Lethbridge, Medicine Hat, and all of Alberta.
---
D7 / Decon7 – 4 Gal. Kit (2 x 2 Gal. Kits) Case $260.00 CA
D7 Decontaminant (Decon7) is derived from aqueous-based decontamination technology that can rapidly neutralize highly toxic chemical and biological materials. It is a hydrogen peroxide-based formulation that also contains surfactants (i.e., soap), mild solvents, inorganic salts, and water. D7 Decontaminant (Decon7) kills the most common pathogens, including those found in biofilms, and neutralizes toxins.
D7 is a powerful, patented decontaminate and cleaning solution that neutralizes both biological and chemical contaminants. Originally developed to counter biochemical threats to national security, D7 today is utilized in a variety of military, defense, and public safety applications. D7 tackles the toughest contamination challenges, neutralizing toxic and/or deadly chemicals, bacteria, and viruses within minutes.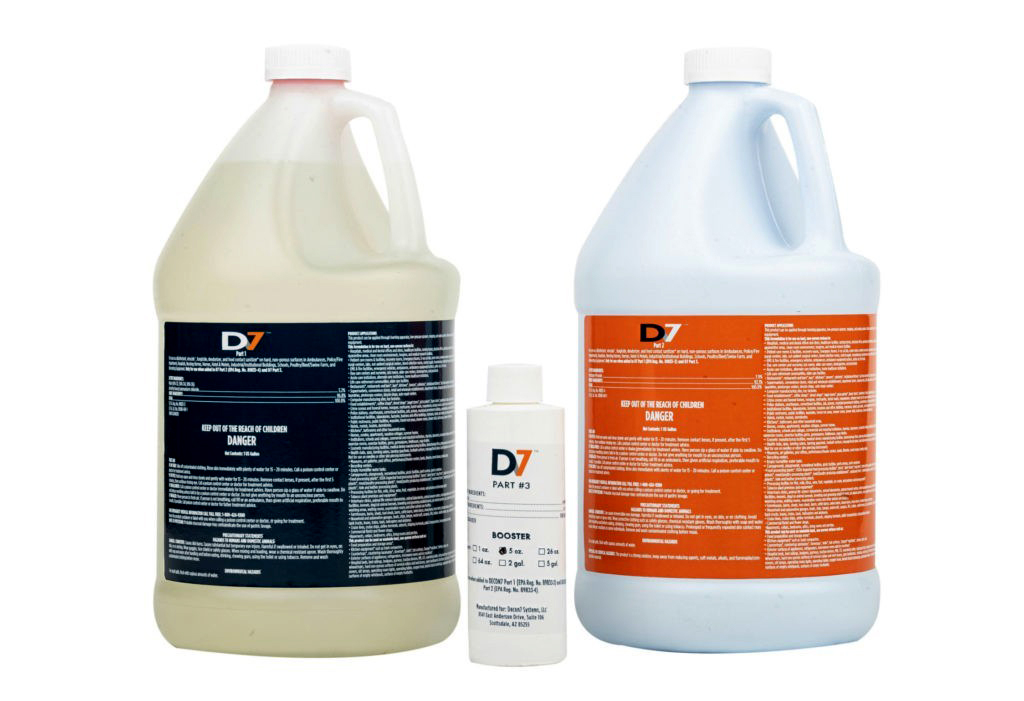 Please fill out the form below for any purchase inquiries and requests. Make sure to include any questions, additional pertinent information, and special conditions in your message.
Our experts in trauma cleanup are ready to respond to your sanitation and decontamination needs 24 hours a day and 7 days a week. We will meet or beat competitor pricing…contact us for details!